One month ago, Sword and Verse went out into the world, and it's been a whirlwind!  Thank you to everyone who has come out to launch events and signings or who has read and reviewed the book!  Here's some exciting news about upcoming events and giveaways:
1. Just 6 more days until Sword and Verse is released in the UK!  Look for it February 25!
2. Sword and Verse will be published in German by Beltz!  (For those keeping track, we're now up to English, Turkish, Spanish, and German.  No word yet on a translation into the language of the gods.)
3. Look for the first of many extra scenes from Sword and Verse at the beginning of March!  Nicola from Queen of the Bookshelves will be hosting the inaugural extra, a scene from Mati's point of view, and we'll be running a contest for exclusive early access to the next extra scene!
4.  I'm so excited to be one of the featured authors at the NOVA Teen Book Festival in Arlington, VA on March 5, 2016!
5. From March 16-22, I will be participating in the Behind the Pages tour with three other terrific young adult and middle grade authors!  We'll be presenting at the SCBWI MD/DE/WV Conference on March 19 and 20, and making appearances at the libraries and bookstores below.  I hope you'll come and see us!  (We still have some openings for school visits!  Contact me if you're interested in scheduling one.)
6. There's a Goodreads giveaway going on now through March 26 for a signed copy of Sword and Verse!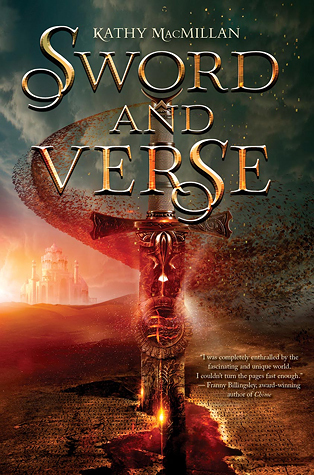 7. Speaking of giveaways, I've got a whole bunch of great stuff lined up to give away on Twitter, including ARCs of some fantastic upcoming books by some great authors, an annotated copy of Sword and Verse, and more!  Follow me at @kathys_quill to make sure you don't miss out!